Dell Optiplex Micro 3020: Ultracompact PC
Last May 2015, we sold and delivered the Dell Optiplex 3020 Micro Desktop to one of our customers.  And this is a simple review on the specs.
Optiplex Micro is an Ultracompact, Energy Efiicient desktop with versatile deployment options which also include a range of custom mounts.  Measuring just 18.2cm along its longest edge, and weighing around 1.3kg, the Micro is much smaller than the Minitower and Small Form Factor versions of the 3020.  It's designed to sit flat on your desk, or an optional stand can be used to stand it vertically. There are also VESA mounting options if the micro PC is to be mounted on the monitor.
There are 2 configuration options of processor curenly availabe in the market:
Intel Core i3-4160T Processor (Dual Core, 3MB Cache, 3.10GHz)
Intel Core i5-4590T Processor (Qual Core, 6MB Cache, 2.00GHz)
Other configuration such as RAM, HDD, OS & Warranty are preconfigured with the following specs:
RAM: 4GB (1x4GB) NON-ECC,1600MHz
HDD: 500GB 2.5″ 7200RPM SATA
Graphics: Intel HD Graphics 4400
OS: Win 8.1 Pro (Pre installed with Win 7 Professional)
Network: Gigabit Ethernet
Interfaces: 2 x USB 3.0, 4 x USB 2.0, DisplayPort, VGA, headphone, microphone, LAN.
Warranty:  3 Years Pro Support warranty onsite Parts and labour
Dell standard USB Keyboard, Mouse, OS recovery disk & drivers and vertical stand came bundle with the system.  LCD monitor is not bundle with the system but users has the options to choose Dell Entry level monitors such as 19″ E1916HV and 20″ E2016H.  The monitor that we sold together with the desktop as in the photo above is the 19″ E1914H which has been discontinued.
As for mounting options, there are a few mounting bracket options by Dell
1) Kit- Micro E-Series Monitor Mount V2 (452-BBZX ) *compatible only with new Exx16 monitors
2) Kit – OptiPlex Micro VESA Mount *Mount your system on a wall or under a surface with an optional adapter bracket to manage your power cables with ease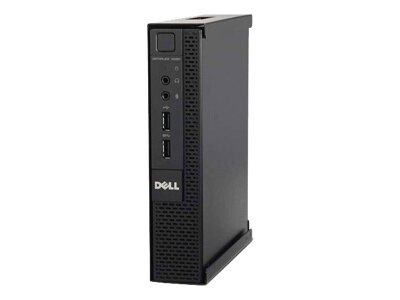 3) Kit – OptiPlex Micro Dual VESA Mount
Interested with this desktop system? Call us at 018-3185682 or drop us an email at sales.enquiry(at)nurnetworks.my for quotation and pricing